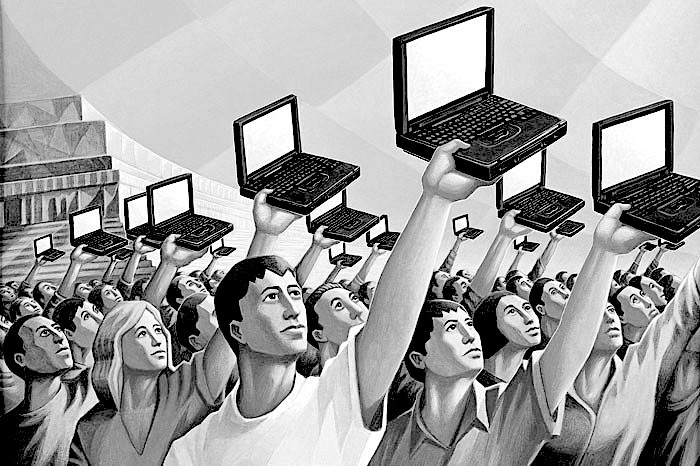 The transformative impact of digital technologies on our daily life implies the need for a new social charter between the state and its citizens.
Today's world: in the midst of a digital revolution
Since the invention of the printing press, the relationship between governments, administrations, and citizens has been paper-based, characterised by static, standardised interfaces. Extraction and processing of data in print was cumbersome and error-prone. Sharing and reuse of information was virtually unheard of. Administrative 'silos' were the norm. When the first general purpose digital computers arrived seventy years ago, few predicted their impact on daily life.
Information and communication technologies – machines, networks, algorithms – have revolutionised the way we generate, manage, and share data. New information-based industries have emerged. Governments and citizens cooperate via digital 'forms' with dynamic, personalised two-way interfaces. We can now tackle previously unsolvable societal problems through information sharing and collaborative work practices. However, this digital revolution has only just begun!
Tomorrow's world: a digital society
Digital technologies are evolving at an accelerated rate. These technologies have become pervasive across society, disrupting both public and private sectors. This digital transformation of research, industry, and government is gathering pace. Digitalisation has become a common global political priority. In particular, there is a shared realisation that digital technologies will shape new governance structures facilitating citizen and business participation in policy making, adding value to interactions and influencing new patterns of coordination and cooperation within and across public administrations. In short, a digital society is being created.
The digital society will see increased digital disruption, the rise of the data economy, an evolution to data-driven administration, and an emphasis on data security. This fundamental role of data is now recognised as key to delivering better evidence-based policies and the next generation of trusted cross-border digital public services. These services should be user-centric, built on the principles of openness, transparency, reusability and designed for security, privacy, and interoperability.
Democracy and digital
This new digital society is also changing the way democracy functions. Issues that transcend the digital technologies per se now preoccupy politicians, legislators, policy makers, and the public. While existing digital platforms and a select number of companies dominating specific industries offer new and seductive opportunities for customers and third parties, they also have a disruptive dimension, which undermines the social cohesion of communities.
Issues relating to the ethics, transparency, openness, and inclusivity of these digital ecosystems need to be addressed. These include: the use of personal and sensitive data; dissemination of fake news; disinformation and hate propaganda; cyberattacks on critical cyber-physical infrastructures (electrical, water, health and government systems); and the role of artificial intelligence in new applications. Guidelines and technical best practices are necessary but insufficient. Legislation and regulations to curb the excessive power of some hegemonic players needs to be enacted and enforced.
A social contract for a digital Europe
Actions unleashing the potential of digital technologies for Europe's citizens whilst guaranteeing their rights have been initiated by the European Commission with its Digital Single Market flagship priority and legislative initiatives, including the adoption of the General Data Protection Regulation (GDPR).
These are, however, only the first steps on the journey to a digital Europe that involves nothing less than the digitalisation of democracy, together with democratic control of the digital industry without stifling innovation.
Frictionless interfaces mediated by digital technologies will add value to purpose-driven interactions between citizens, administrations, and governments and consolidate democracy in the digital age.
This transformative impact of digital technologies on our daily life implies the need for a new social charter between the state and its citizens – one that is fit for purpose for the digital age. Data should be central to such a social contract. Digital rights should cover the generation of data, its management, use and reuse, protection and preservation. Its adoption would ensure the trustworthiness of digital public services and increase trust in the digital ecosystems underpinning daily life.
An EU data policy and coordinated national data policies, both based on the European Interoperability Framework (EIF), should complement this social contract and become an EU-wide information management framework to address the information issues linked to the cross-border needs of citizens and businesses and the global multidisciplinary challenges of our time including climate change, trade, terrorism, and civil rights.
A shared challenge
The digital age calls for the reinvention of our democratic institutions and democratic processes; in Europe, we will do this as a tangible expression of our values. The involvement of civil society through more effective participatory processes needs to gain further traction by the adoption of Responsible Research and Innovation (RRI) approaches. The public sector IT community across Europe is ready for this challenge. Now is the moment for the European institutions to reinforce their work with the member states and the innovative digital ecosystems towards a charter of social and ethical values that will shape a digital Europe and provide the impetus for a more just global digital society.
—
Source of this article: https://www.opengovpartnership.org