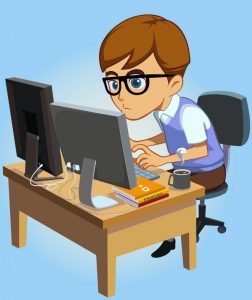 Epoptes is a computer lab management and monitoring tool. It allows screen broadcasting and monitoring, remote command execution, message sending, imposing restrictions like screen locking or sound muting the clients and much more!
It can be installed in
Ubuntu
, 
Debian
 and
openSUSE
based labs that may contain any combination of the following: 
LTSP
servers,
thin
and
fat
clients, non LTSP servers, standalone workstations,
NX
 or
XDMCP
clients etc.
Epoptes has been translated into more than 40 languages and it's being used in many installations all around the world.
Features
Remotely boot/shutdown/reboot computers in a LAN.
Assist or monitor users remotely.
Thumbnail overview of the client computers.
Execute commands or send messages to remote computers
Lock/Unlock the screen of remote computers
Mute/Unmute the sound of remote computers
Measure the network bandwidth
Organize computers to groups
View remote computer hardware and software information
Get involved
Report a bug, create a pull request, or translate Epoptes at: https://launchpad.net/epoptes
Public administration reference
The Greek Ministry of Education has utilized Epoptes in the Greek public schools in Linux environments. Many more European and non-European countries and their schools use Epoptes in a daily basis to manage their computer labs.   See also:
https://joinup.ec.europa.eu/community/osor/news/computer-lab-management-tool-over-500-greek-schools
https://joinup.ec.europa.eu/community/osor/news/spain%E2%80%99s-valencia-reuses-greek-pc-lab-software
http://camara.org/blog/2014/05/02/new-software-piloted-elearning-centres-throughout-tanzania/
—
Source: https://joinup.ec.europa.eu